Defining Open Access
Open access (OA) refers to freely available, immediately, digital, online information. Open access scholarly literature is free of charge and often carries less restrictive copyright and licensing barriers than traditionally published works, for both the users and the authors.
While OA is an emerging form of scholarly publishing, many OA journals comply with well-established peer-review processes and maintain high publishing standards. For more information on Open Access, see Peter Suber's overview of Open Access.
Open Access is explained in this video, please watch it here:
Gold Open Access

In this model, articles and contents related to them can be accessed at no cost on the journal's website.

Gold Open Access articles are licensed under Creative Commons Licenses (CC), which means they can be freely distributed and shared so that other people can build their own work based on them.

An overview of fully OA journals can be found in the Directory of Open Access Journals (DOAJ).

Green Open Access

This variant of Open Access enables authors to archive their own work on a website controlled by them, or their funder, or on an Institutional repository.

The deposited version of the article may or may not be final. It might be the accepted manuscript by the journal or an almost final one, after peer review. In this case, it is called "post print.

A list of publishers' self-archiving policies can be found on the SHERPA/Romeos database.
Open Access Publishing

SAMRC is implementing Plan S, a program promoting immediate and full open access to peer-reviewed scholarly publications that are funded by public and private sources.
Plan S is a global open access initiative with one goal:
As of 2021, all publications related to research funded by public or private grants provided by national, regional and international research councils and funding bodies must be published in open access journals, on open access platforms, or made immediately accessible through open access repositories without embargo.
Some of SAMRC's research is already funded by Plan S signatories. In support of this initiative, we have developed this guide that can assist applicants applying for research grants from Plan S funders starting in 2021.
Plan S: Why do we need it?
Plan S is based on the principle that research paid with public money should not be locked behind paywalls. Research results are withheld from a large segment of the scientific community and from society at large because of publication paywalls. Subscription-based models of publishing science, including hybrid OA models, are unsustainable. Accordingly, science should not be monetized in any way.
Do I need to take action?
Plan S is only applicable to research funded by organisations that have signed up for it.
International funders and supporters include: World Health Organisation, Bill & Melinda Gates foundation, and Wellcome.
What are the steps to comply with Plan S?
The compliance requirements are only in place for scholarly articles for now. In order to comply, you have three options:
Publish in an OA journal or on an OA platform which are Plan S compliant (a.o.: listed in DOAJ, identified with DOI, professional archiving, open license).
Publish in a subscription journal and deposit an electronic copy (either the accepted or published version) in an OA repository which is Plan S compliant, without embargo and with an open license.
Temporary: publish in a hybrid journal, on the condition that there is a transformative agreement with the publisher (i.e. commitment to turn Full OA in the near future).
Journal Checker Tool
Use the Journal Checker tool to find a compliant journal or to check the compliance of the journal you're using.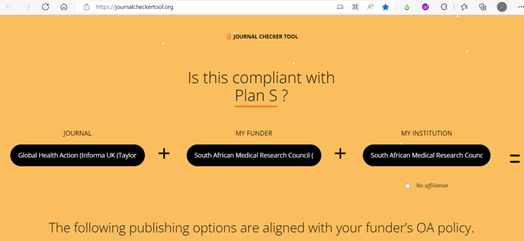 Simply supply the name of your preferred journal, your Coalition S funder, and your institution as You will be provided with the appropriate routes to compliance and instructions on what to do next. If no route to compliance is available, the tool will suggest how to edit the search to find a combination that enables compliance.
For more information about Plan S and its implementation please see the Coalition S website. You may find the pages listed below particularly helpful. Contact KIMS if you need any further help.
How does Open Access benefit Researchers
• There are no financial barriers to accessing research outputs.

• A wider audience can read, use and/or share research publications.

• Increase in researchers' visibility, citations, and impact around the globe.

• Society gets to benefit from the research that is conducted with the support of taxpayers' money.

• The institution receives more funding due to a greater research impact.

• Compliance with Open Access mandates.
For more information on benefits of OA: See https://www.springernature.com/gp/open-research/about/benefits
How does Open Access benefit SAMRC?
• Collects and preserves the SAMRC's research output and disseminates it through the institutional repository.

• Provides the possibility of indexing and tracking the research output of the SAMRC from international search engines on the Internet, like Google etc.

• Monitors the number of visits and use and collects data and indicators that can be used in institutional planning, and the search for sources of funding etc.

• Provides opportunities for the use and re-use of the SAMRC's output for research purposes

• Boosts international communication, supports collaboration channels and bolsters the SAMRC's international profile.

• Makes African research more accessible and visible.
Please click on the link for more information: https://sparceurope.org/what-we-do/open-access/oa-benefits/